Walk in Love's Big Move to Maui
For the fast-growing apparel brand walk in love., business has continued to flourish over the years. But when the owners of the brand exceeded the maximum capacity for their inventory storage and shipping needs, they realized it was time to let Threadbird handle their fulfillment responsibilities. In doing this, T.J. and Brooke Mousetis were afforded the freedom to relocate their family business from their overcrowded bedroom office in Pennsylvania, to the beautiful beaches of Maui, HI.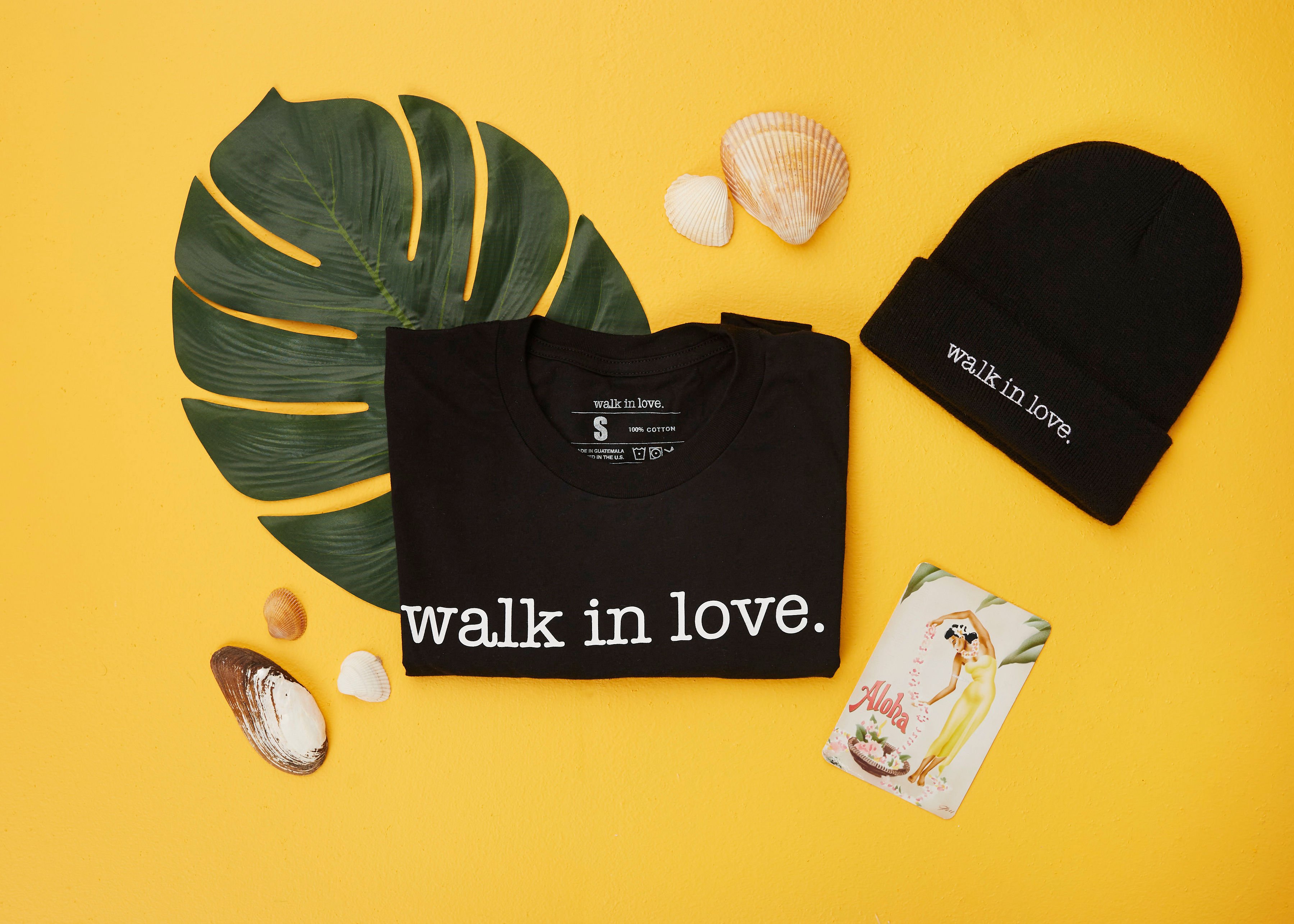 For those of you who don't know, the walk in love. brand was humbly born from owner T.J. Mousetis' desire to give people hopeful reminders that they could wear while also inspiring others. Since the conception of the walk in love brand way back in 2005, T.J. and his wife Brooke have continued to grow their fan base by promoting their lifestyle brand on their social platform as well as their blog and successful podcast. 
Rewinding back to 2010, when the partners first began screen printing with Threadbird, their system consisted of shelves set up in their apartment, in which they packaged, added postage and mailed out all of their orders. Like many apparel companies in the early stages of business, Brooke and T.J. started out small in developing their operations, as they were sending out just a few orders per week. Over time, they eventually experimented with having seasonal kiosks at the mall, which later evolved into to a full time store. 
In time, the partners recognized the flaw in this model in that there was a lot of emotional pressure and stress involved in keeping everything in-house. Having tried both pre-sale and full-time fulfillment for several years, Brooke and T.J. came to realize that:

 
"Handling such a heavy load of inventory was a challenging financial burden to carry. Combine that with having to manage the nitty-gritty of making, sure enough, orders are going out, and it's not a fun combo."
- T.J.
When orders kept rushing in faster than the partners could keep up with, they knew it was finally time to explore potential solutions for walk in love. Brooke and T.J. decided they needed to find a reliable, consistent business solution in order to stay on top of inventory, and also meet their production needs.
"We decided to smash the plates on the ground and only pick up the pieces we enjoyed and really felt like we excelled at."
Given that they were already creating their products with us, T.J. decided to by inquire about the fulfillment capabilities and resources available to them through Threadbird. There insightful conversations with team members ultimately led them to pursue Threadbird's fulfillment services and use a pre-sale, 'made to order' business model for their brand. 

 
"We completely changed the way we sell and that has been a huge improvement to our bottom line which is amazing. Threadbird being able to handle the fulfillment side has blossomed into something we never could have imagined."
This partnership with Threadbird has enabled walk in love. to be able to sell its stock ahead of time, prior to the start of production. In other words, they can launch their monthly (seasonal collections) as a pre-sale for a limited amount of time, and customers can place and purchase their orders before the physical products are produced. Once the pre-sale window has closed, Threadbird starts the production process, then we fulfill and ship out all of walk in love's orders.
Throughout their business journey, walk in love. has grasped the importance of asking questions and adapting to the external changes of business as well. Reflecting back on their experiences, T.J. admitted,
"I really wish, looking back, that we would have had the conversation to use a fulfillment center before spending all that money trying to do it ourselves.

"If we would've asked some more questions about fulfillment earlier on, it would've saved us a lot of headaches and frustration.. but we just got locked into one way of thinking and never questioned it."

Over the last five years since walk in love started doing fulfillment and shipping with Threadbird, Brooke and T.J. have noticed a remarkable change in terms of cash flow and finances. The most significant benefit of using this presale model, is that it has afforded them the money need to actually produce their products, before they are produced.
In 'selling' products ahead of time, it has eliminated the guessing game of having to figure out how many products they need to produce. Thus, reducing their likelihood of 'dead stock' (extra, leftover stock).

For environmentally-conscious clothing brands like walk in love., this is a big win because it eliminates the waste caused by dead stock. Since lightening their load of business responsibilities, T.J. and Brooke have purged the clutter within their home office, which has allowed them to

 
"Focus more on the creative side of our business. Since handing fulfillment and shipping to Threadbird, we've produced some of our most successful collections as well as ones we are the proudest of."
For business entrepreneurs who are in the early stages of building their brand, T.J. recommends test and measure,

 
"Try it out for a few months and see if it's right for you. Once you have those shelves out of your office you will have space to breathe, think and dream again about what's next, which will help your business grow and advance into new areas."
Over the years, social media has played a big role in the promotion of walk in love's monthly and seasonal pre-sale of products. With their shared backgrounds in photography & video, Brooke and T.J. have learned how to leverage their skills, by using social media as a tool to engage with their customers.


With every new collection of products walk in love launches, they make try-on videos, in which they review the given products. They also give feedback on how the material fits and feels, show color variants of the product, and assess the overall quality of the printed design on the garment.
Leading up to the launch of walk in loves pre-sale releases, T.J. and Brooke continue to utilize Instagram features like a countdown, or stickers to promote the products within the upcoming presale collection.
In spite of the ever-changing nature of social media over the years, walk in love has shifted their focus to connecting with their customers and community, on a deeper level than Instagram. This new way of thinking inspired Brooke and T.J. to embark on their podcast series, where every Monday they talk about everything from topics like marriage, work balance, book recommendations, life lessons, virtues and more.
"Our goal continues to be - to produce high-quality content that adds value."
Since their big move to Maui in the spring of 2021, Brooke and T.J. have continued to be inspired by the awe and magic Maui has to offer.
"In Maui, there is a freedom to just try and step into the best version of yourself. What makes it really special is that it gives you permission to step into who God has created you to be."

In addition to their podcast, T.J. has also been able to dive into some of his other artistic hobbies like painting fun, colorful canvases of different kinds.
Looking back on the past five years since walk in love started fulfillment with Threadbird, the partners shared that
"the biggest lesson we continue to learn is that business isn't a straight shot up and to the right, it ebbs and flows. There are good years & bad, fun times & hard times, stressful times & times of ease...and so the triumph is that we are still here, and still doing it."

It is an exciting chapter for the walk in love. brand as they continue doing what they love while enjoying doing it! Celebrity actor Chris Pratt also wears their shirts.. so that's pretty cool too.

Follow along with walk in love. on their journey on Instagram: @walkinlove