Custom Rain Jackets are Here!
Why settle for ordinary, when you can design & create completely unique rain jackets? Let your brand shine with custom rain jackets that are tailored to your taste!
Unique Decoration & Features
Top to Bottom Customization
Sometimes standard rain jackets don't quite have the fit, style, or features that you're looking for. Well lucky for you- we can incorporate all of your specifications into the design & construction of your very own custom rain jackets.
Product Details
Superior Fabrics & Materials
Our team of experts collaborates with you to source superior materials and fabrics to create your fully custom rain jackets. We combined 100% nylon fabric with 100% polyester lining to build a distinctive rain jacket and customized its inner lining with a sublimated print.
Custom Design & Features
Working with your artwork, our skilled designers utilize your artwork to create a digital tech pack that includes a digital mockup of the rain jacket with your original designs. This vector mockup outlines all of the specifications, features, and finishings for your custom rain jackets.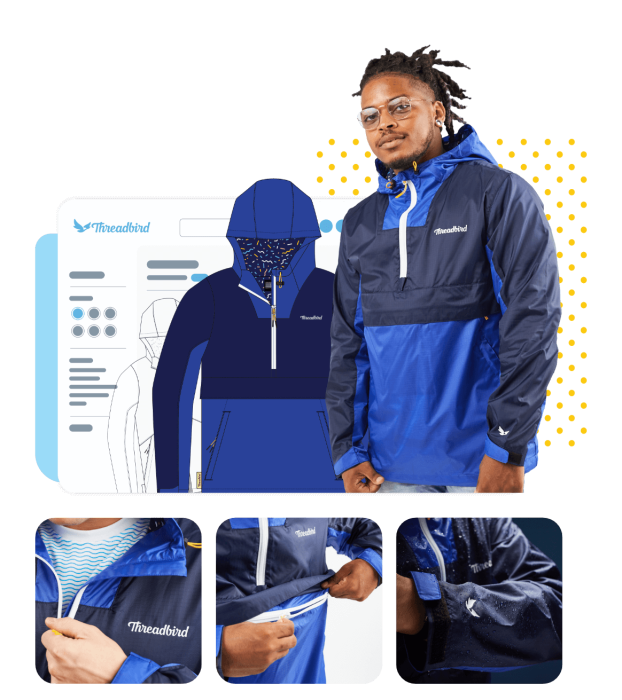 Step 1
Start with One of Our Base Styles
Diagonal Rain Jacket
Diagonal Front Panels
2 Tone Build
Water Resistant Fabric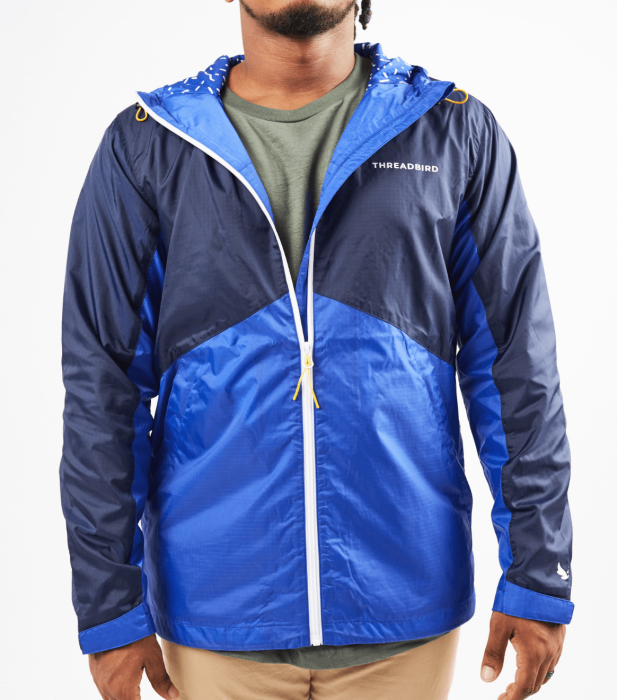 Straight Zip Rain Jacket
Straight Front Panels
Full Zip with Side Pockets
Water Resistant Fabric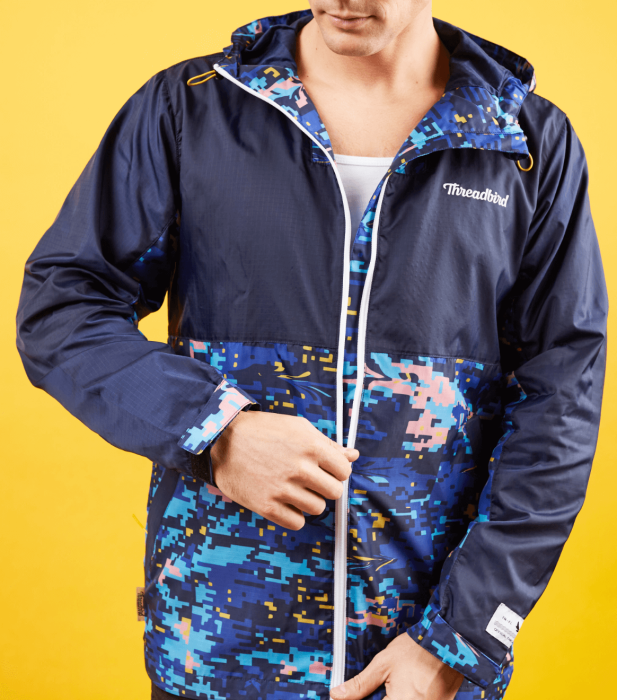 Anorak Rain Jacket
Half Zip Construction
Hidden Front Pocket
Water Resistant Fabric
Customization Freedom
The creative possibilities are limitless for your custom rain jackets. Customize, design, and decorate your jacket according to the fit & style that you want! Don't see what you're looking for? Contact us for more details.
Step 2
Design Your Base Fabrics
When it comes to rain jackets, the base fabric you choose will ultimately dictate the outcome of the rain jacket. Qualities like breathability, water resistance, and comfort are crucial qualities to consider when exploring material options. Our team will assist you in sourcing the base fabric that is best suited to your needs and expectations.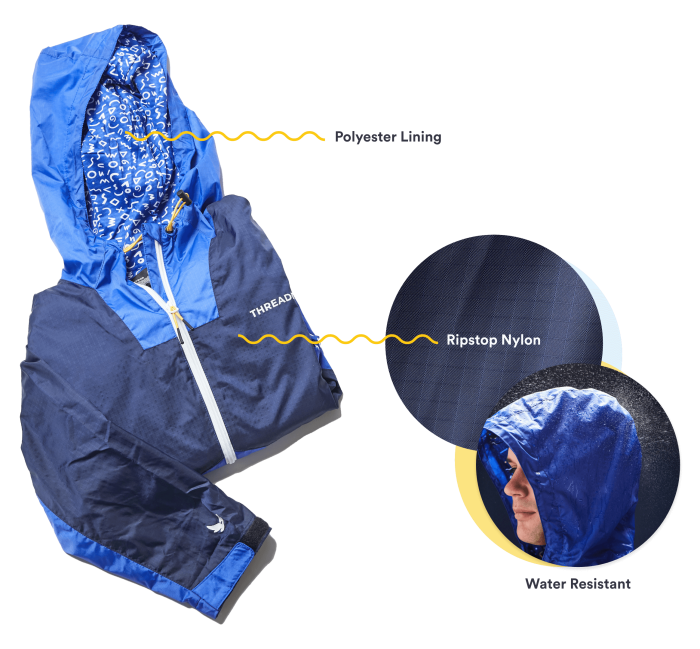 See Our Ripstop Nylon
We combined 100% nylon fabric with 100% polyester lining to construct this premium custom rain jacket from the inside out. In combination, these quality materials created a lightweight, water-resistant base for this jacket. To polish it off we also customized the rain jacket's inner lining with a sublimated pattern print.
Sublimate Your Fabrics!
Want durable, long-lasting designs on your rain jacket? Say hello to sublimation! Unlike standard screen printing, sublimation printing on polyester & polyester blend fabrics embeds the ink into the material fibers. This process ultimately creates a vivid, smooth print that looks & feels like it's part of the fabric!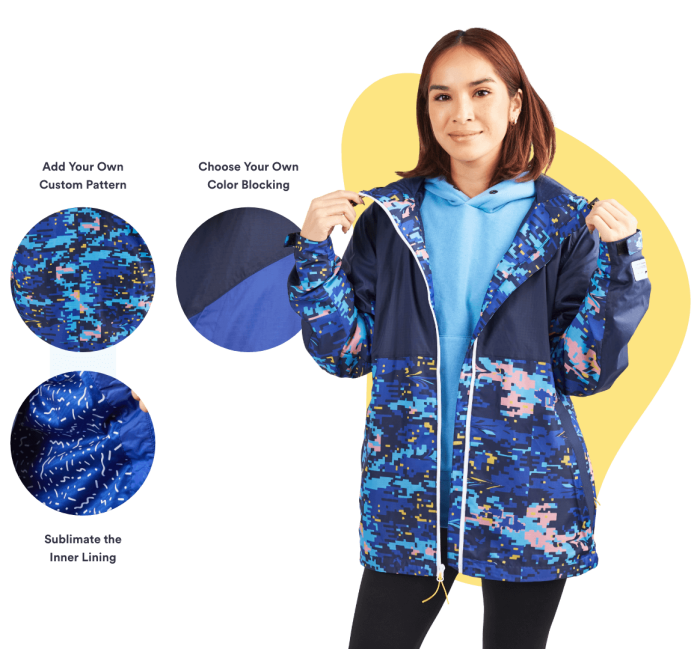 Heat Transfer
Heat Transfer

Description
In a way, this decoration method is similar to printing a photograph onto a garment. First, the artwork is printed on regular transfer paper and then applied and pressed with heat. This process transfers the design by adhering it to the garment fabric,  creating the polished, printed outcome. 
Raised Silicone
Raised Silicone

Description
Your artwork is created with stretchy silicone rubber that is applied and transferred to the jacket fabric via heat press. This method maximizes the water-resistant qualities of your seamless designs and produces a soft-to-touch feel. This technique is an awesome way to achieve high-quality, durable designs with a 3D look.
Embroidery
Embroidery

Description
Embroidery is an excellent way to enhance your rain jacket with designs that pop! Designs with text or a light-density fill are ideal for embroidery decoration on nylon/poly fabric blends. Embroidery capabilities may vary based on size of artwork and jacket materials.


More Details

Water seal backing available for a $1.00 upcharge

To maintain its water resistant properties, an adhesive water resistant sealant is applied to the back of your embroidered design, to prevent water penetration.

 
All Over Print
All Over Print

Description
With sublimation printing, we apply pressure & heat to transfer your design patterns all-over the fabric canvas. We can also create your all-over design on the inner lining of the hood for a unique look inside & out!


Advantages

Silky Smooth: Ink integrates into the garment, leaving no feel to the print.
Design Freedom: No limitations on the size or location of your print. 
Longevity: Ink is absorbed into the garment, creating a long-lasting print.
Reflective Print
Reflective Print

Description
If you're looking for design visibility, this style of decoration is the way to go! Your artwork is printed with a 3M™ reflective powder that works to reflect light when it hits the material. This is cool because it makes your eye-catching designs visible day or night!


Advantages

Visibility: reflective material that illuminates & enhances the  appearance of the print.
Want to find out more?
The creative possibilities are endless! Contact us to learn more about the design capabilities for your custom rain jackets!
Step 4
Finishings
Choose from any of these finishings to add your final branding touches to your custom jackets.
| QTY | 150 | 300 | 500 | 1000 |
| --- | --- | --- | --- | --- |
| Price | $51.20 | $50.15 | $49.25 | $47.70 |
$50/unit for spec samples

Price includes: Printed inner liner, full color panel capability, up to 3 heat transfer placements. (For all 3 styles)
For additional options and add-ons, please contact us for more information
Inspiration Gallery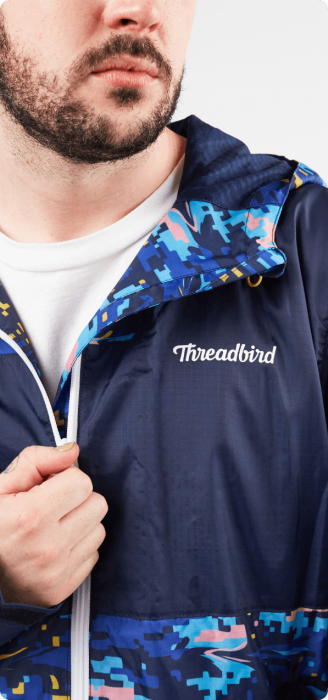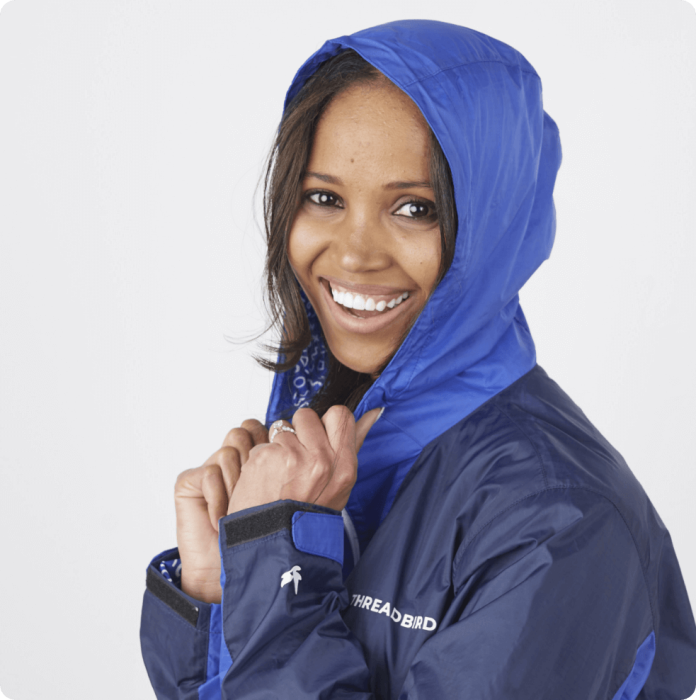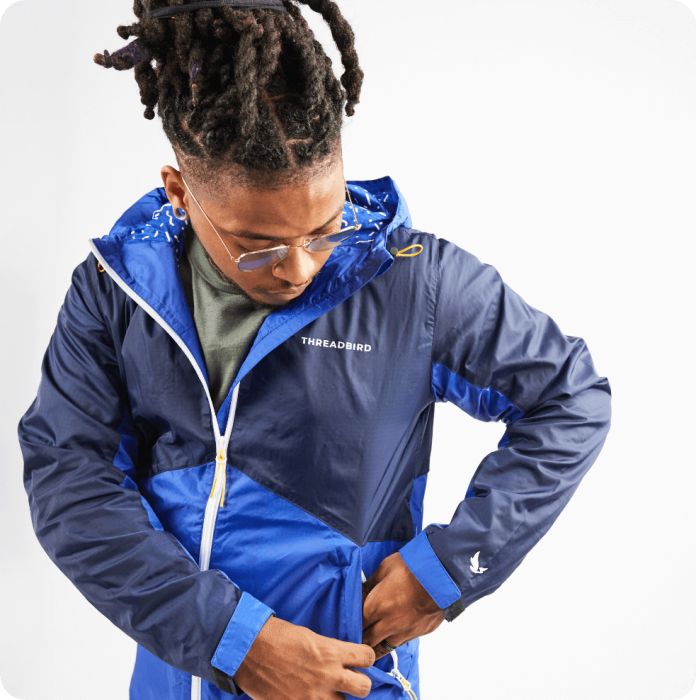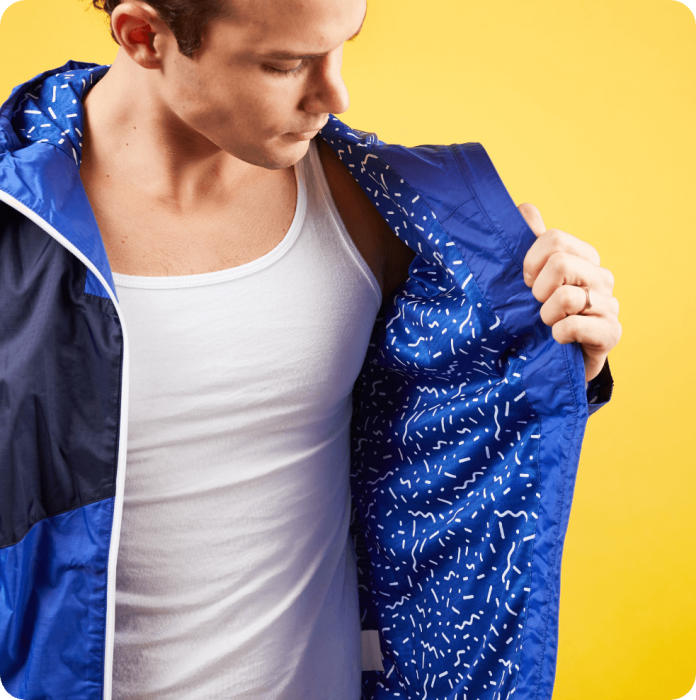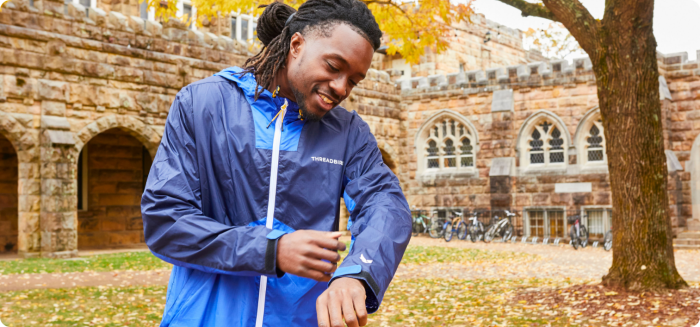 Brand Your Customers Today!
Choose from our extensive range of products, inks, and finishing options and develop high-quality products that are perfect for your customers.