Create a completely custom hat
Our custom hat printing program enables you to reach your full design potential. With our capabilities, you can choose the material, hat style, and even add printed fabrics to your custom hat!
Choose the Hat Style, Visor, Fabric & Closure
Customize the Design & Decoration
Accessorize with Custom Features
Welcome to Our Custom Hat Program!
Our custom hat printing program affords you with the creative freedom to design completely unique hats for your brand! Build a hat from the ground up, or customize an existing hat style that you love and make it your own. The hat customization capabilities are endless, from choosing the style & materials, to designing the features & overall look of the hat.
Start With Our Most Popular Styles
Build a hat that fits all of your needs! Handpick from one of our original silhouettes, or send us a hat that you love and our production team will match it!
Baseball Cap
6 Panel
Poly/Cotton Twill
Structured
Mid Profile/Crown
Curved Bill
Fitted
Flat Bill Hat
5 Panel
Poly/Cotton Twill
Structured
High Profile/Crown
Flat Bill
Snapback
Dad Hat
6 Panel
Cotton Twill
Unstructured
Low Profile/Crown
Curved Bill
Fabric Buckle Closure
Foam Trucker
5 Panel
Polyester Foam
Structured
High Profile/Crown
Curved Bill
Snapback
7 Panel Surfer
7 Panel
Poly/Cotton Twill
Structured
High Profile/Crown
Flat Bill
Snapback
Camper Hat
5 Panel
100% Polyester
Unstructured
Mid Profile/Crown
Flat Bill
Nylon Closure
Custom Decorations
Create the overall look, feel, and design of your hat. Personalize all its features like the structure, fabric types, colors, and decoration to align with your brand. Choose from one of our popular hat styles, and jump right to Step 6 to start decorating your hat. Or build a completely unique custom hat of your own, by following the steps below!
Or construct a completely unique, fully custom hat from the inside out!
Get creative with our unlimited hat design options, and bring your branding ideas to life through our 7-step customization process.
Step 1
Select Hat Panels & Materials
Panels = pieces of fabric that make up the side and back portion of the hat. With so many hat styles to choose from it's important to consider which hat style & form would be the best for your brand. From one style to another, the different number of panels offers distinct benefits for hat design and material customization. We can source just about any kind of material - so just ask! Or choose from these standard materials to personalize the hat panels:
 Cotton Twill

 Poly/Cotton Twill 

 Wool 

 100% Polyester

 Foam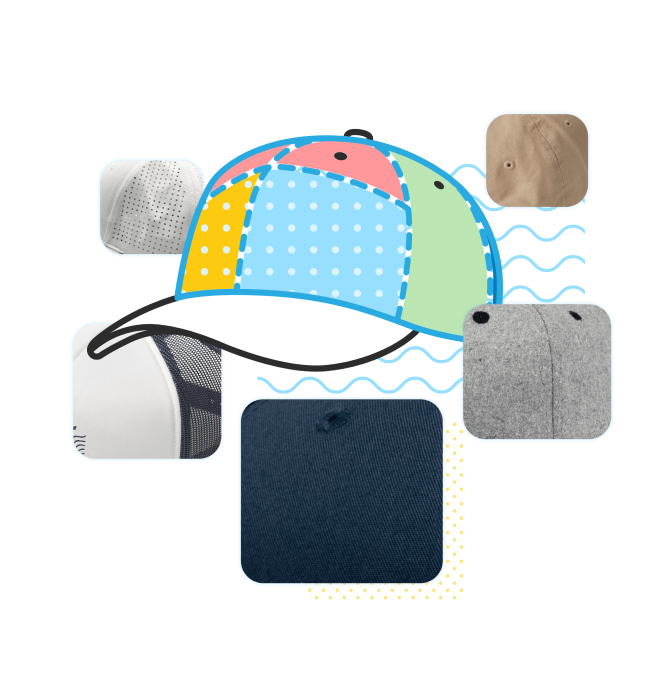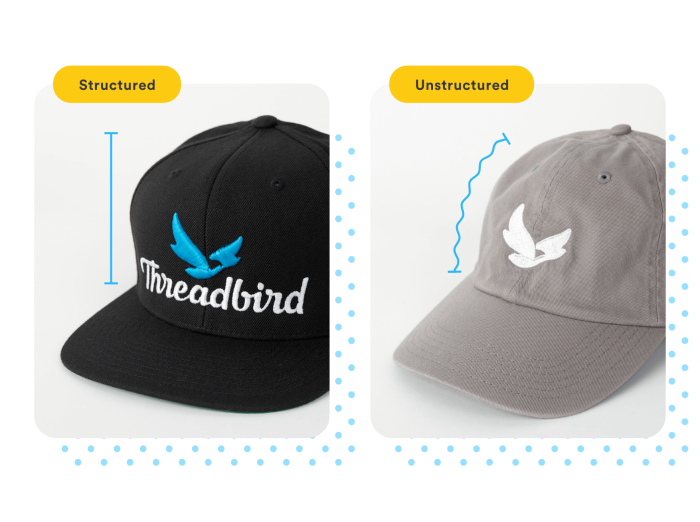 Step 2
Pick Hat Structure
The most important feature of your hat is the shape & structure that you choose. The main, front panel of the hat that hugs the head (otherwise known as the 'crown') falls into two categories: structured & unstructured.
Structured hats

have an entirely spherical shape due to a rigid backing behind the two front panels which keeps their form when worn i.e taken off (Ex: Baseball Cap, Snapback, Flat Bill).

Given its firm structure, structured hats are ideal for logo visibility & durability (or longevity) - whether it's patched, embroidered, or screen-printed.

Whereas

unstructured hats

do not have a rigid backing behind the front panel, and so their shape is less-form fitting and firm.

Unstructured hats are a great option if you're looking for a relaxed style with a more flexible fit.
Step 3
Select Profile/Crown
When it comes to design customization, the slope height of a hat's profile (commonly known as the 'crown') is an important feature that factors into the outcome of your design. All hat styles come in different shapes & sizes, each suited for different head sizes. So we've broken them down into three profiles:
Step 4
Select Visor Options
Pre-Curved Rounded
Pre-Curved Square
Flat Rounded
Flat Squared
Snapback
Self Fabric Clip
Self Fabric Slide
Velcro
Fitted
Leather with Clip
Flexfit
Nylon
Leather Buckle
Additional Options
Step 6
Decorations
Build on your fully custom hat, by adding any these branding features to it.
Embroidery
Embroidery

Description
This technique uses a needle & thread to create your designs on your desired location on the hat. Pick the type of embroidery that works best for your artwork and cap! 3D Puff Embroidery will give your hat designs more of a raised look, whereas with Flat embroidery (the most common) the thread is stitched directly onto the fabric, giving it a flat look. Or to incorporate both of these looks into your design, mixed embroidery is an excellent way to achieve both a flat and 3D appearance. Embroidery decoration can be an awesome way to add depth and eye-catching branding to your custom hats.


Advantages

Longevity

: long-lasting quality, sturdy polyester threads. 

Detail & Shine:

thread creates a nice reflective shine

that makes your designs POP.

Vivid Colors:

highly saturated and vibrant thread colors that won't fade.

More Options:
Flat/Standard, 3D, 3D+Flat Embroidery, Chainstitch Embroidery, All Over Embroidery
Patches
Patches

Description
This method of decoration involves attaching a patch to a cap by embroidering or heat pressing it onto the hat. Patches afford you with a range of customization options, from the type of patch, size and shape, to its font & colors.


Advantages

Flexibility

: personalize the type, overall look & style of your patch. 

Professional Look

: polished, high-end outcome.

Texture & Depth:

gives dimension to the look & feel of your designs.

More Options:
Embroidered, woven, printed, leather patch, PVC/rubber patch and more!
All Over Print
All Over Print

Description
As its name suggests, this type of digital printing is when your designs are printed on fabric first, then the hat is constructed (cut & sewn) into the final product. All-over decoration is unique because it allows you to print with many colors anywhere you want on the hat (even under the visor). Pick a pre-made pattern fabric (camo, checkered) to use, or we can create and add your own!


Advantages

Limitless Color: 

full-color print with no color restrictions or fading. 

Scale

: print larger designs without limitations on print coverage area

Quality Details:

sharp lines & ink colors that create realistic prints.
Underbill Print
Underbill Print

Description
Using our all-over method of sublimation printing, we can apply your digital designs onto the top and underbill visor of your hat. We can also create your designs using screen-printing, or cotton digital print. This is a unique way to personalize this visor feature with vivid colors and patterns, and elevate your custom hat.


Advantages

Creative Freedom: enhance your branding with design on the visor. 

Versatility:

every style of hat has a visor that you can customize.

Reduces Glare

: adding dark color to the underbill works great to reduce any glare from the sun.

More Options:
Custom visor color, screen print, sublimation, or cotton digital print
Screen Printing
Screen Printing

Description
For this decoration process, we screen print your designs directly onto the surface of the flat hat panels first, and then we cut and sew all of the panels together to build your custom cap. This method allows you to print on several different panels if you'd like!


Advantages

Visibility: produces more legible, detailed designs compared to embroidery 

Quality Prints

: we use high-quality inks to create lasting and durable prints
Heat Transfer
Heat Transfer

Description
This decoration technique is when your custom logo or design is printed onto a special paper that heat is then applied to, ultimately resulting in a transfer of the ink from the paper onto the hat. Heat transfer is the best type of decoration to use if you have intricate designs with several colors. 


Advantages

Design Outcome

: allows you to print high-resolution graphics & complex designs.

Eco-friendly

: requires less ink chemicals and equipment to produce.
Raised Silicone
Raised Silicone

Description
This method of hat decoration uses durable, high-end raised graphics to create your designs, by applying heat & pressure to a silicone canvas, thus printing the design onto the hat. Then, we polish off your silicone design with a standard matte finish, or we can also do a glossy, two-tone, or even a beveled finish to capture your vision. This type of decorating is ideal when decorating 5 panel hats, or with graphics that have large, dense areas.


Advantages

PMS Matched:

have a specific color in mind? Send it and we'll match the silicone to the exact Pantone color of your choice.

 

Quality Details:

captures intricate design details, and creates a tangible, high-end look & feel.

Depth

: raised silicone that adds depth to your designs to make them stand out.
Step 7
Finishings
Embellish your custom hat design, from the inside out! Polish it off with these branding finishings:
Order Our Sample Custom Hat!
Get a look and feel for the quality, construction and decoration of our custom hats by seeing the hat for yourself.