Focus on your business, we take care of shipping!
Let us take care of the shipping so you can focus on your business! We'll process your orders, pack them, and even handle returns.
Focus on Growing Your Business Quickly!
Trusted Customer Service & Managed Returns!
You Sell It... We Ship It!
Looking for full-service Order Fulfillment for all your customer orders - look no further. Threadbird specializes in eCommerce order fulfillment services for direct-to-consumer brands. Stop wasting your valuable time picking, packing, and shipping customer orders and get back to working hard to make your brand successful with our order fulfillment and printing services.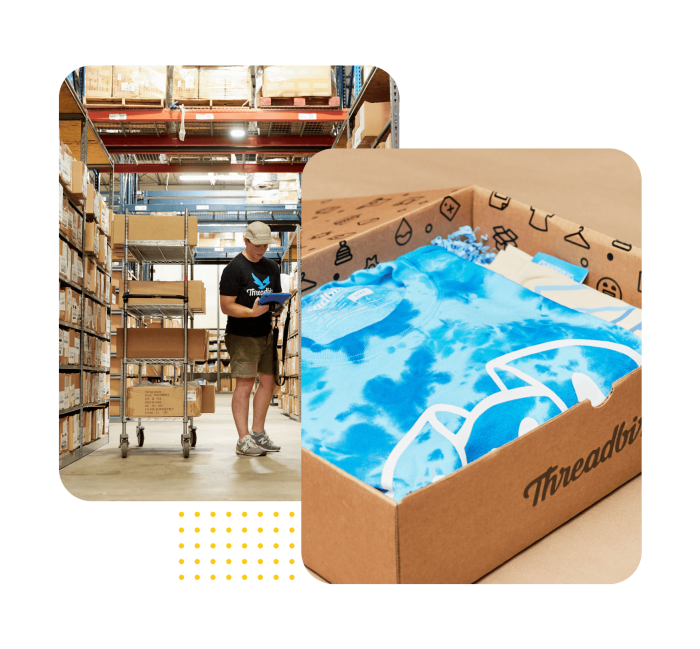 How it works
We want to make it an easy process, so let us break down our Order Fulfillment Services for you.
Connect Your Store & Send Your Products
With our platform, you can integrate your Shopify, Etsy, eBay, or a variety of other platforms to our fulfillment system then send us your products.
We Store Your Inventory
Have more inventory than you can handle? We can store it all for you. Save money and place larger orders upfront. We'll take your items directly into our fulfillment center.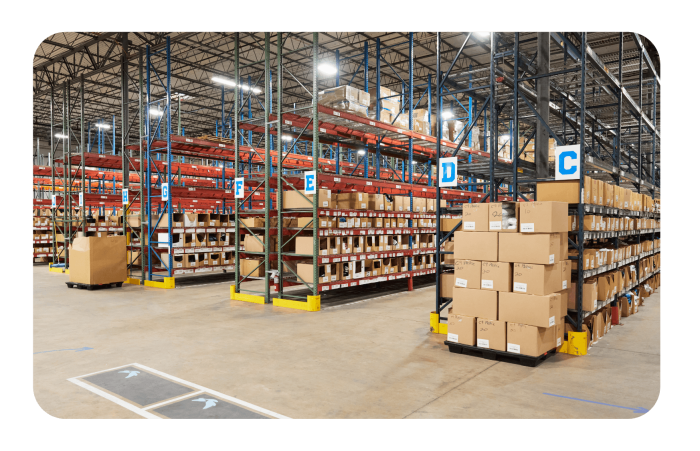 Your Customers Place Orders
Your orders will come straight into your system and to us. Don't worry about being the middleman between your orders and shipping.
We Pick, Pack & Ship!
Orders come in and orders go out. We pack orders just like you do with order fulfillment. Send us your specific packaging for shipping. We will even handle the returns.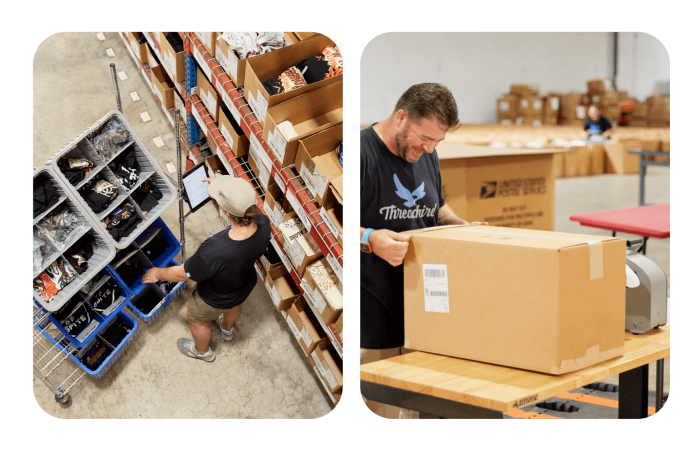 Discover our features
It's not just about getting your packages there on time. We want to make sure the only thing you have to worry about is sending us designs to print new inventory for your store.
Discover our integrations
To ensure that your store works with our system, we offer integration with all of the major e-commerce platforms. Don't see your platform? Email us and we can see how to integrate and get your orders shipping in no time.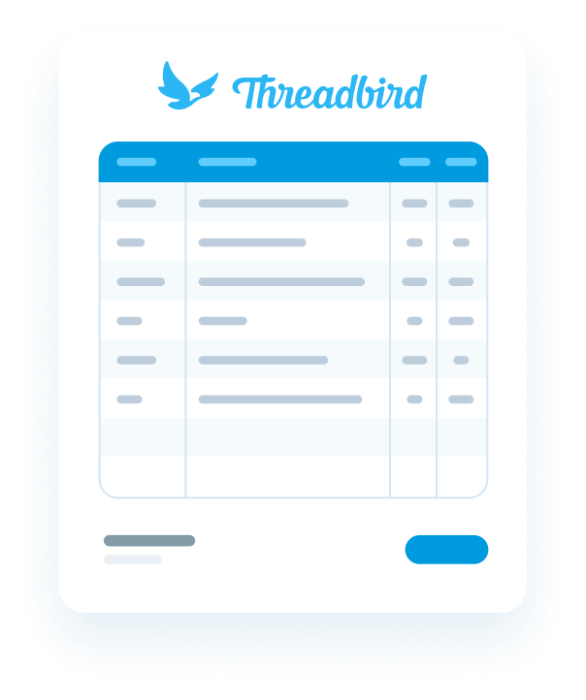 Simple and Predictable Fulfillment Pricing
Stop wasting your valuable time picking, packing, and shipping customer orders and get back to working hard to make your brand successful. 
Frequently Asked Questions
Have a quick question? Check out our most commonly asked fulfillment questions below.
Do I Have to Print With Threadbird to Use Your Fulfillment Services
Printing with Threadbird is not a requirement in order to use our fulfillment services. Each service is separate and you can either use one, or both.
Is There a Contract Associated With Fulfillment?
Yes, however you are free to leave with a 20 days notice, but you will be responsible for the cost of shipping all remaining products back to you. All outstanding invoices must be paid before your product is shipped back. 
Can I Include Free Items With My Order? (Stickers, Wristbands, Etc)
We can include one (1) small item in each package at no extra charge. Anything more than that may require a small additional fee. 
Can I Sell Items Other Than T-shirts?
We can ship most items, including but not limited to: apparel, accessories, posters, and small promotional items! 
What's Your WMS (or Warehouse Management System)
Accurate inventory - check from any web-connected device! 
Faster picking and shipping - our bar-coded, tablet drive pick, pack, and ship process gets your orders out the door quickly 
Reliable stock management - know what's in stock, what's selling quickly, and what needs reordering
Easy returns - end customer drive process makes things easier for everyone
Is One Time Fulfillment An Option?
Yes, it's perfect for Kickerstart or Indiegogo!
Do You Offer Print On Demand?
At this time, no. It's something we're looking into for the future. 
Can I Provide My Own Custom Packaging?
Yes! Although it depends on the complexity of the customization, you will not be charged additional packaging fees. Please speak with us prior to providing us with packaging. All packaging you provide will be counted as additional product storage. 
Will the Packing Slip and Shipping Label Be Branded? Will Anything Else Come With the Package?
Our standard packaging includes a blank white polybag or blank box. It will have your name listed over our address as the shipper for all domestic shipments. International orders will have a person's name on them. The buyer will also receive a packaging slip (no pricing listed) displaying the item(s) ordered and basic return/customer information. 
How Can I Get Items From My Inventory Sent Directly To Me?
All we need is an email with the request, the shipping address, and how quickly it needs to arrive. We will bill you for the costs of shipping, plus a small handling fee (either normal fulfillment fees or up to $6 per box).