Design Your Own Hats!
Why settle for the ordinary when you can create custom hats that will set you apart from the rest? Whether you're an entrepreneur, brand, or growing business, Threadbird is your go-to partner for designing and creating your very own hats.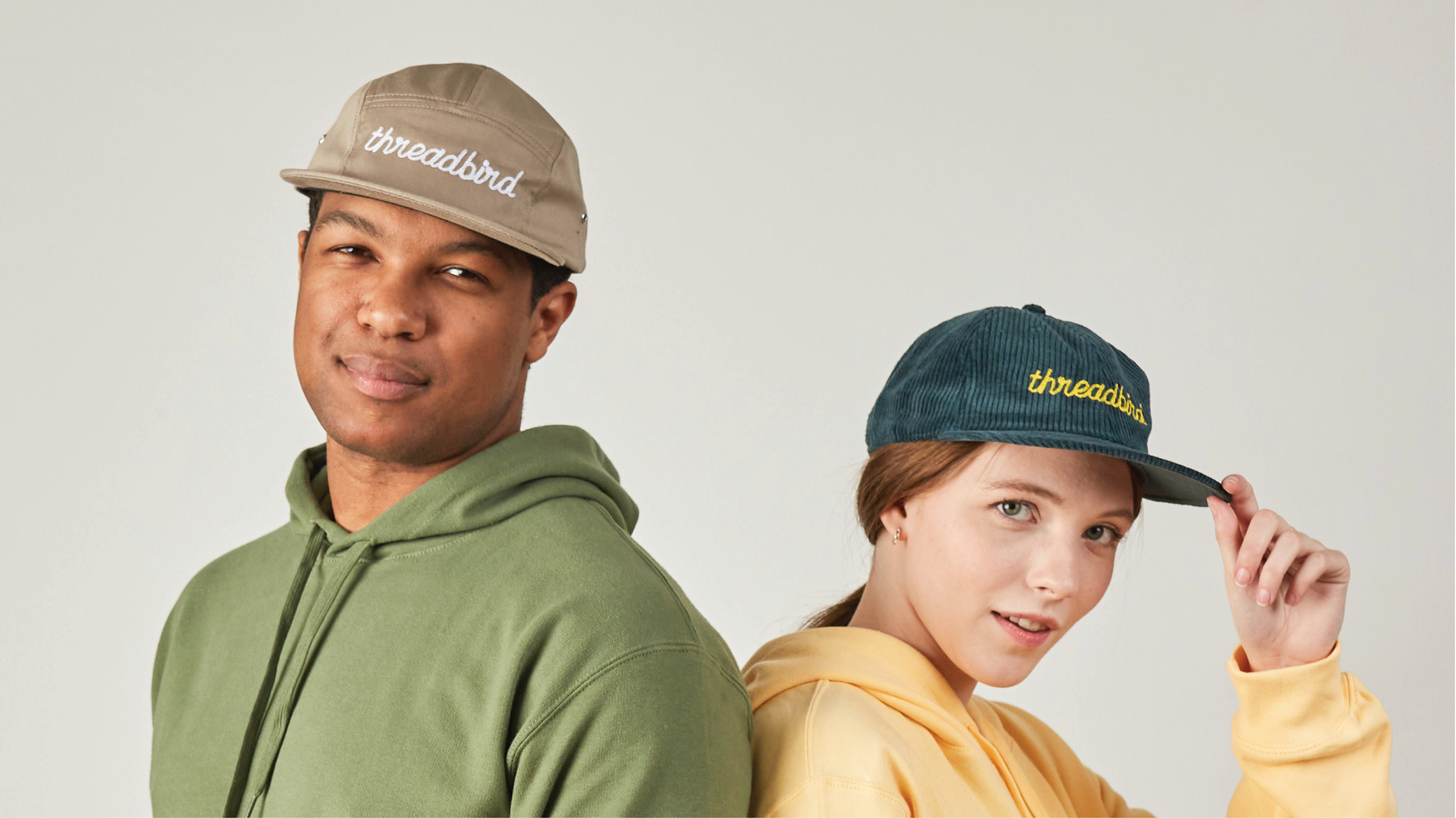 Creating your own custom hat has never been easier with Threadbird's simple, straightforward process. Our custom hats page is going to become your new best friend, in guiding you through the steps of designing your custom hats! If you already have a particular brand or style of hat in mind or you want to find a hat that speaks to your vision, our team is here to help you get started. In the meantime, here is some insight on what this process entails: 
 
1. The first step in getting started is to determine what style of hat (silhouette) you'd like to create. From baseball caps, truckers, bucket hats, beanies, and just about any type of hat that you can think ofour team can source it for you! With so many different options to choose from, we've broken down the most popular styles into 6 standard styles:
What distinguishes these six silhouettes from one another are the features that are included with each style. When exploring the range of hat styles options, it's important to consider which features you want your unique hat to have. These features include:
 
- The Material of a Hat 
- The Number of Panels (triangular pieces i.e sections of fabric that make up a hat)
- The Form of the Hat 
    >  Structured: Made with stiffer fabric that retains the hat shape
    > Unstructured: Made with softer fabric with no stiff inner structure
    
- The Profile/Crown of the Hat (slope i.e height of a hat that covers your forehead) 
    >  Low profile: (2-3") Shorter, most shallow crown
    > Mid profile: (3-4") Mid-height crown 
    > High Profile: (3.5-4+") Tall, Extended crown 
 
- The Bill/Visor (Flat or Curved)
- Type of Hat Closure (Fitted, Snapback, Nylon, Buckle Closure)
This step of selecting the hat you'd like to design will ultimately help you determine if you want to decorate an existing blank hat, or if you want to create a completely custom hat.  



What's the difference? 


 
Decorated Hat

= If you want to add your designs to a style of hat that already exists (ex: Decky, Yupoong, etc). Decoration includes printing, patches, embroidery, and more.
 
Click here

to browse our gallery of hats!

Utilize the search filter (on the left-hand side of the page), to narrow your search results by material or brand of hat. Once you find the hat that you're looking for, submit your order details and click 'Add to Quote'! 
Custom Hat

= If you want to design and customize a new hat from scratch, that doesn't already exist. Customization includes choosing the

silhouette, material, number of panels, visor, closure etc.  


 
Click here to explore the customization possibilities for your custom hat! 
Custom Wool Hat with Woven Patch:
We created from this flat bill cap from scratch, using wool materials, a plastic snapback closure, and woven patch for decoration!
Time to Customize!

  Make them your own.

Once you have a vision for the style of hat that you want to create, the next step is to dive into our 7-step process for customization. For those of you who are looking to customize a hat from one of our 6 silhouettes, you can skip Steps 1-5 and jump right to Step 6 to start decorating your hats! 


From here, our step-by-step walk-through will take you through each step of the process to design your own hats. Throughout this, we allow you to personalize every aspect of your hat, from the materials, shape & style, decoration, and more! And don't worry, our Threadbird team is also here to assist you along the way.
Time to Decorate! Embellish your hats.

Every style of hat has its own distinct features that offer opportunities for decoration.  When you get to step 6, explore all of the range of decoration options we can do to bring your designs to life on your hats! 
 
Every decoration type has its own benefits and drawbacks, so it's important to consider which option would work best for your designs and hat structure. In doing so, ask yourself these questions: 
 
'What outcome do I want my designs to have?' 

'What are the most important aspects of the hat?

(Durability, Comfort, or Design Detail)
Add some Finishing Touches! Elevate your branding. 

The final step in designing your custom hats is to add any final touches to them! Some specialty features unique to hats that you can customize are custom taping on the inside hat seams, inner woven labels the color of the sweatband, in addition to the button/ eyelet colors. If you really want to set your branding from others, these distinctive features are an excellent way to make your hats all the more memorable for your customers!

 
Send Us Your Order Details!

 

And we'll get the ball rolling. 

Now that you've gone through all of the steps of determining how you want to design your own hats, it's time to compile your ideas and send those details to Threadbird! Send us an email to: [email protected] and include the following info about your project: 
 
Contact info

(Name, Phone Number, Address)

Name of Hat

 (Silhouette, Style or Brand) 

Or if you want us to match another hat, send us a link or visual reference to it!


 

The Design File(s) for your Artwork

(*please export your file as a high-resolution file, at least 300 DPI at print size). 
 
Product Specifications:

Quantity of hats you'd like to order 

(*our minimum starts at 50 hats)

Material of Hat

(Front to Back) 
Style Expectations (ex: you want a curved visor vs a flat bill) 
Decoration Type

(

Patch, Embroidery, Sublimation, etc)
Design Details (Location for decoration on hat, #of Colors in Design) 

Any Finishings or Special Features

Your order is now on it's way to us! Once we receive your quote submission, our Threadbird team will get back to you within 1-2 business days, with a detailed quote that includes a mockup of the hat with your designs, the cost per hat, any applicable discounts, and the estimated shipping time. 
Embroidery is not just a needle & thread; it is a world filled with boundless design possibilities where you can let your imagination run wild. If you value the finer, more intricate details, this blog about custom embroidery will open up a whole new realm of creative potential for you!
June 1st, 2023