Cut & Sew: Custom Defined.
You may have heard the term 'cut & sew' and wondered, what does this REALLY mean?! Let's dive in and find out!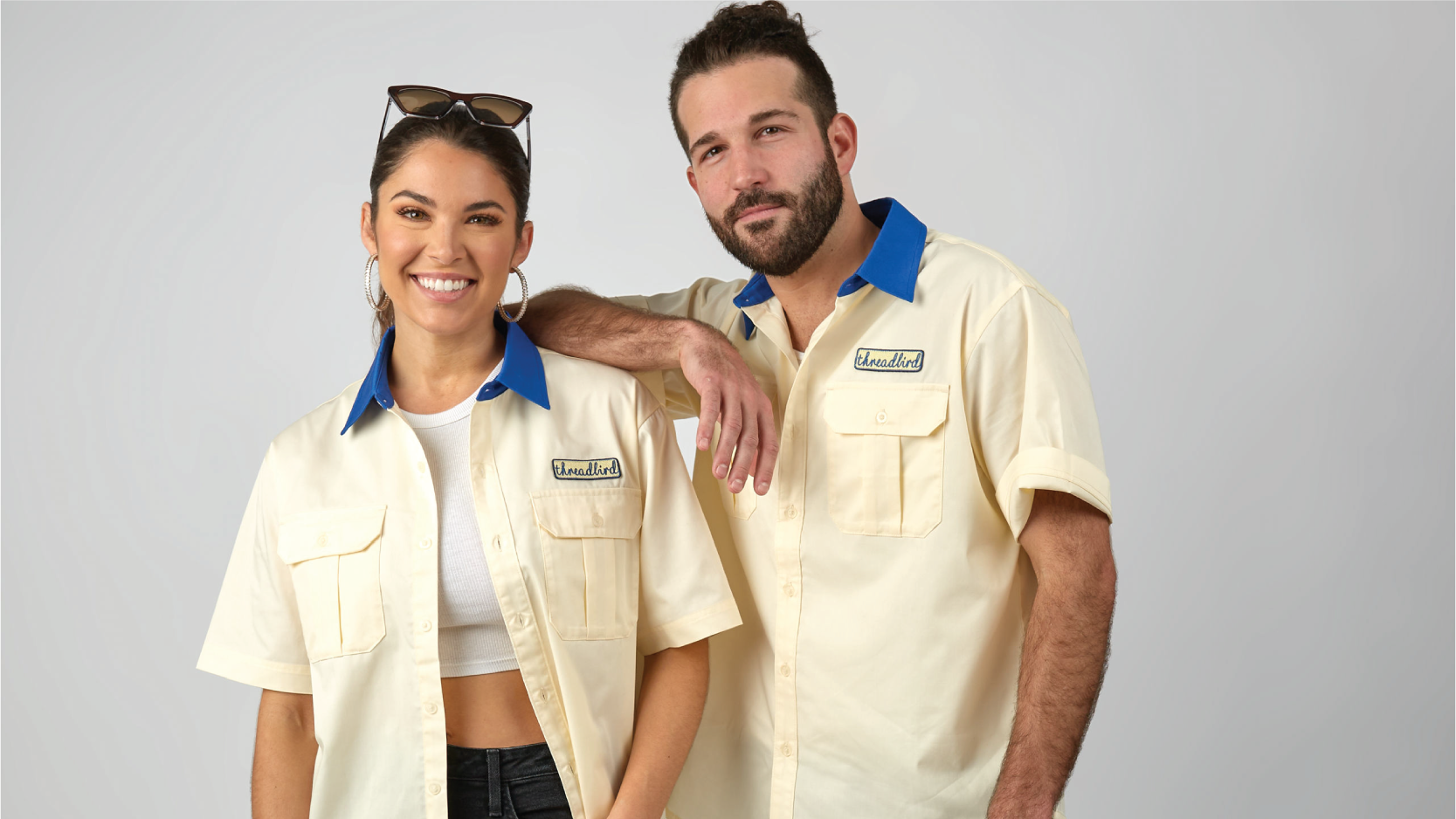 Simply put, 'cut & sew' involves cutting pieces of fabric into certain shapes, then sewing them together to create a final product. Threadbird's Cut & Sew program lets you design and construct your very own unique product, like rain jackets or button-up shirts from scratch. You get to choose the style, color & design, and even customize the features of your custom piece such as its zipper color or pockets. And best of all, our Threadbird team will put it all together for you!
Cut & Sew vs. standard printing & embroidery?
 
Within our Cut & Sew program, the customization capabilities are endless!  In comparison to our standard screen printing and embroidery, this service affords the customer a higher level of customization freedom and control over the final product. 
Whereas with our standard printing and embroidery service, this is when we are simply screen printing or embroidering our customer's designs onto already existing blank apparel or merch. Instead of going the standard route, you can design out of the box and create distinctive products that nobody else has. And this is what makes Threadbird's Cut and Sew program so special!
Decorated vs. Custom
 
When it comes to customizing products, we like to make a distinction between our standard printing and embroidery service as a 'decoration' of goods, whereas within our Cut & Sew program, we frequently use the phrase 'custom' in describing an original product design. 




What's the difference?
 
Decorated products aren't made from scratch, but rather existing products that are tailored in design according to the customer's specifications. These products are most often embellished with designs, logos, or text-decoration applied through screen printing, embroidery, or heat transfer. The decoration process allows customers to add their own branding or designs to an existing product (t-shirts, hats, jackets, etc) but the overall design and construction of the product remain the same. 
 
Threadbird defines custom products as products that are designed and constructed from scratch, through the cut-and-sew process. This creation process involves selecting the materials, colors, patterns, designs, shapes, and features of the given custom product. Following this, the fabric pieces are then cut into specific shapes and sewn together to create the final, polished product. 
(Left) We decorated this blank ITC windbreaker by heat pressing our design onto the chest & backside of the jacket, in addition to attaching our branded hem tags to the pocket hem. (Right) We constructed this custom, cut & sew straight-zip rain jacket from scratch using custom materials, an all-over custom pattern, heat press decoration, and some cool features like bungee cord zipper pulls, velcro wrist straps, and a woven label.
What does this process look like (step-by-step)?
 
The exact process is likely to vary slightly from one customer to the next, depending on the specific needs and desires of the person and the product they wish to create. These are the general steps involved in getting started on a product with Threadbird's Cut and Sew program: 
 
Get in touch: The first step is connecting with Threadbird by email, messaging us on our Facebook or Instagram page, or by filling out a quote form about your cut & sew project.

 

Consultation: Given that quality is our number one priority, every customer is assigned to a personal Customer Account Specialist to work with throughout the cut & sew process. This specialist will have an initial conversation with the customer to discuss their project ideas, needs, and requirements. Following this discussion, our team of experts will then source the necessary fabric materials to create the custom product that aligns with the customer's vision.

 

Visual Design: This process involves specifying all of the visual aspects of the custom product, such as the materials, colors, patterns, designs, shapes, and features that the customer wishes to create. These design specifications will ultimately determine how the fabric pieces are cut and sewn to make the final product. Our Threadbird designers work with the customer's artwork to create a digital tech pack of the cut & sew item. Or if a customer needs some creative inspiration, we also have several design templates to build from! 
4. Sampling: After the pattern is created, Threadbird will create a sample of the product for the customer to review and assess to ensure that the custom product aligns with their vision. The customer can request any changes or modifications to the sample if needed. 
 

5. Production: Once the sample and design are both approved, Threadbird will move the customer's product designs into production. From here, the fabric pieces will then be cut to the pattern and sewn together according to the customers product specifications that are outlined in the 'tech-pack' to create the final product.
6. Delivery: Upon completion, Threadbird will deliver the awesome, finished custom product to the customer!
Create a full-color, all-over sublimated pattern like we did on this custom button up! Then polish off your custom piece by adding your unique branding flare to it with custom woven label. You can also add cool features like this micro-fiber cloth that we added into the interior seam of this button up to wipe off your glasses!
For those who are bored of creating standard screen-printed or embroidered products, cut & sew is a perfect route to pursue. Cut & sew gives you the creative advantage of having control over the aspect of your custom product design. From ideation, to design customization, sampling, and production, our Threadbird team will guide you through the entire process of bringing your cut & sew product to life!

Visit our Cut & Sew page to learn more about our capabilities for creating your custom products! 
 
Embroidery is not just a needle & thread; it is a world filled with boundless design possibilities where you can let your imagination run wild. If you value the finer, more intricate details, this blog about custom embroidery will open up a whole new realm of creative potential for you!
June 1st, 2023